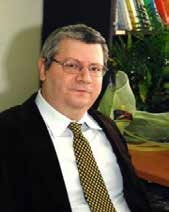 NICHOLAS APERGIS, PROFESSOR
Department of Banking & Financial Management University of Piraeus,
Greece
He holds a PhD in Economics from Fordham University, NY, in 1992, a Master of Arts from the Economic University of Athens, in 1986 and a Bachelor's from the University of Athens, in 1984. He is currently Full Professor of MacroFinance at the University of Piraeus, Greece. His research interests are with Macroeconomics, Energy Economics, Domestic and International Financial Markets. He has over 230 publications in international journals, while he is considered among the top-20 researchers in energy and environmental issues.
He has acted as referee for international journals, such as: Journal of Money, Credit and Banking, European Economic Review, Journal of Macroeconomics, Atlantic Economic Journal, International Economic Review, Energy Economics, Applied Energy, Energy Policy, Journal of Sustainable Energy, Journal of Ecological Economics, Journal of Banking and Finance.
He is the Editor-in-Chief of the International Journal of Financial Studies, and a member of the Editorial Board in various journals, such International Advances of Economic Research and Energy Economics, among others.