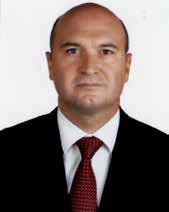 MR. HASAN KİMYA BOLAT
CEO, İş Leasing Turkey
Born in 1966, Mr. Bolat is graduated from Ankara University, Faculty of Political Sciences, Division of International Relations. He began his career as assistant inspector in İş Bank in 1988. After serving in numeruous branches as Branch Manager , Mr. Bolat served as Regional Director of the Department of Commercial Loans from 2003 to 2007 and Director of the Department of Credit Allocation for Commercial SME customers in İş Bank from 2007 to 2013.
Mr. Bolat was appointed as General Manager and member of the Board at İş Leasing in March 2013. Mr. Bolat has also been serving as board member at Efes Varlık Yönetim A.Ş. since April 2013 and at the Association of Financial Institutions of Turkey since 2015.