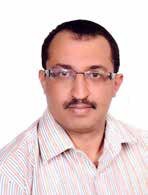 MR. HUSSEIN MEHDARI
Executive Director, Coorporative and Agricultural Credit Islamic Bank, Yemen
Hussein A. A. Al-Mehdar has since 2014 been the CEO of Cooperative & Agricultural Credit Bank (CAC Islamic Bank) of Yemen. He had previously served as Compliance Manager with CAC Bank, Yemen Kuwait Bank (YKB), CREDIT AGRICOLE YEMEN as well as branch manager with CREDIT AGRICOLE BANK YEMEN.
His qualifications include Higher Diploma in Banking Business & Administration from Arab Academy and University of Science &Technology, Sana'a, an Executive MBA jointly given by Maastricht University in collaboration with Sana'a University as well as an MBA in Banking Management & Islamic Banking from Arab Academy and University of Science & Technology, Sana'. He had published articles on Anti money laundering – combating terrorism financing in Yemen banks, Quality Management on Banking Services, Operational Risk, Islamic Banking compliance with Sharia Board, compliance with international standards on anti-money laundering.