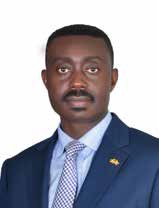 DR. STEPHEN ROBERT ISABALIJA, PH.D, MBA, B.COM, UDBS.
Member of the Board, Uganda Development Bank Limited
Robert is a Policy analyst, Finance and Project management specialist with post graduate training and extensive industrial experience in specialized Financial management and project management skills in Donor (USAID, DANIDA, SIDA, AusAID CORDAID, EU, ADB, WORLD BANK, and DFID) and government accounting in areas of budgeting, value for money audits Project accounting, contract accounting and management, treasury management, credit management project management and evaluations, financial manual writing and Policy analysis. Robert has been consulting for the last eleven (11) years with private and public institutions in Change Management, Project management, financial Management and policy analysis. He is the Vice Chancellor for Victoria University Uganda. He has a been a professor in several Institutions including Makerere University Kampala (MUK) Makerere University Business School(MUBS) where he lectured in the Faculty of Management for eight (8) years, Facilitator East and southern Management Institute(ESAMI) in Policy analysis Project Management, Management of change, Strategic Management, Creativity and Innovation, entrepreneurship, Financial Management organizational behavior ,Business Administration, Human resource management and General Management.
Robert has a Doctorate of Philosophy majoring in Public policy (International Development and sustainable futures) from the Nelson Mandela School of Public Policy and Urban Affairs, Southern University, USA. He is a member of the project Management institute (PMI). Robert is a Board Member of several institutions including Uganda Electricity Generation Company Ltd (UEGCL) where he is the Board Chairman, Director and Chair of Credit Committee Uganda Development Bank Ltd (UDBL), Member of Council Victoria UniversityRoberts core skills are in Private public Partnerships (PPPs), entrepreneurship development, Project Management, Policy analysis, business analysis; business process analysis, design, & re-engineering; business and e-business strategy development; project feasibility; organization change; and project & change management. He has considerable experience in assisting enterprises and individuals improve their business performance in USA, Europe and Africa.