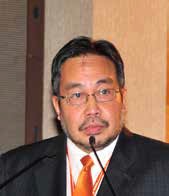 MR. DATUK MOHD RADZIF MOHD YUNUS
CEO, SME Development Bank of Malaysia
Datuk Mohd Radzif bin Mohd Yunus was appointed as Managing Director of SME Bank on 1 July 2010 and had recently been appointed as the Group Managing Director of SME Development Bank (Malaysia) on 1 January 2014.
Datuk Mohd Radzif comes from a diverse management background. He started his career in academia as a lecturer before following this up with a stint in an international consultancy firm. From here he joined the senior management of a financial institution and thereafter took up the position of Chief Executive Officer of a local conglomerate involved in diversified businesses. Being driven by his entrepreneurial spirit, Datuk
Mohd Radzif ventured into his own business but he was soon back to serving a higher purpose when he was called to take up the position of Chief Executive Officer of two pilgrimage fund companies, as part of the companies' turnaround exercise. This was achieved within 18 months of his appointment date.
Subsequently, the Government appointed him as the Chief Executive Officer of Institut Jantung Negara Sdn. Bhd. (National Heart Institute) effective September 2003. In 2006, he assumed duties as the Group Managing Director of IJN Holdings Sdn. Bhd. and in charge of three companies as its Group Managing Director and Chief Executive Officer including Institut Jantung Negara Sdn. Bhd, IJN Capital Sdn Bhd and IJN College Sdn. Bhd.
Datuk Mohd Radzif is also a Chairman of ADFIM (Association of Development Finance Institutions of Malaysia) and a Vice Chairman of ADFIMI (Association of National Development Finance Institutions in Member Countries of The Islamic Development Bank). He is also the member of National Entrepreneurship Council of Higher Education (NECHE) and Intellectual Capital Development Committee (ICDC) of Agensi Inovasi Malaysia (AIM). Datuk Mohd Radzif was given the Malaysian Business Leadership Award for Healthcare in 2009.