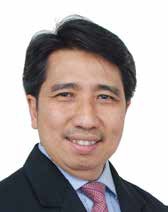 DR. SOLIKIN M. JUHRO
Economics and Monetary Policy Department, Bank of Indonesia
Dr. Solikin M. Juhro is the Director and the Head of Monetary Policy Group, Economic and Monetary Policy Department of Bank Indonesia (BI). He also represents BI's membership in The South East Asian Central Banks (SEACEN) Advisory Group for Macroeconomic and Monetary Policy Management (MMPM). His recent works focused on macroeconomic transformation and central banking policy issues, such as the linkages between monetary and financial stability and a new design of monetary policy framework under flexible inflation targeting.

Among his recent publications include:
- "The Role of the Central Bank in Promoting Sustainable Growth: Perspectives on the Implementation of Flexible ITF in Indonesia", The Afro-Eurasian Studies, Spring 2015;
- "Monetary Policy Regime in Indonesia" (Co-author: Miranda S. Goeltom), in Macro-Financial Linkages in the Pacific Region, Akira Kohsaka (Ed.), Routledge-London, January 2015;
- "The Linkages between Monetary and Financial Stability: Policy Perspectives and Case Study", SEACEN and Bank Indonesia, June 2014; and
- "Sustainable Economic Growth: Challenges and Policy Strategy", in Growth Diagnostic: Growth Strategy to Support Structural Reform in Indonesia, Juda Agung, Edimon Ginting, Solikin M. Juhro, and Yoga Affandi (Eds.), Bank Indonesia and Asian Development Bank (ADB), March 2016.

He holds PhD degree in Economics with Cum Laude from University of Indonesia, Master degree in Economics from University of Maryland, College Park – USA, and Master degree in Applied Economics from University of Michigan, Ann Arbor – USA.