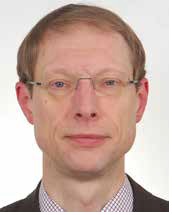 MR. AD VAN RIET
Senior Advisor, Directorate
Monetary Policy, European Central Bank
Ad van Riet is Senior Adviser in the Directorate Monetary Policy of the European Central Bank (ECB) and Secretary of the ECB Occasional Paper Series. He studied Economics at the Erasmus University Rotterdam and started his career with De Nederlandsche Bank in 1987. He joined the European Monetary Institute in end- 1994 and the European Central Bank when it was established in mid-1998. At the ECB, he has held several management positions, successively taking charge of the Monetary Policy Stance Unit, the EU Countries Division and the Fiscal Policies Division. He has published work on European integration, monetary policy, fiscal policy, structural reforms, financial regulation and the flow-of-funds.