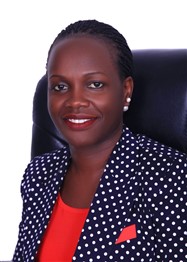 Patricia Adongo Ojangole
Managing Director, Uganda Development Bank Ltd.
Patricia is a professional accountant with 16 years international experience in Banking and Finance. Currently the Managing Director of Uganda Development Bank Limited where she has been instrumental in turning around the Bank to become the preferred and trusted partner to the Government of Uganda in achieving Socio-economic development aspirations.
Patricia is completing her Masters of Philosophy in Development Finance at University of Stellenbosch Business School, Cape Town, South Africa and has completed a research assignment on The Impact of Financial Sector Development on Economic Growth in Uganda. This is motivated by the fact that the role of finance is increasingly taking center stage in economic development, making policy makers concerned with how to promote access to financial services by all actors of the economy, while leveraging on the opportunities presented by the changing landscape.
Patricia holds an Executive Master's Degree in Business Administration from Eastern and Southern Africa Management Institute, Arusha, Tanzania; a Bachelor of Commerce (Hons) Degree from Makerere University, Uganda and has completed a number of leadership and management programs.
Patricia is a Fellow of the Association of the Certified Chartered Accountants (UK); the Certified Public Accountants of Uganda (ICPAU), as well as The Institute of Internal Auditors Uganda (IIA).
She is a member of the Board of Uganda Development Bank Ltd, Msingi EA Ltd, Busitema University Holdings Limited, ADFIMI as well as AADFI. She serves as a member of the Presidential Economic Council in Uganda and member of the Private Sector Working Group under the Ministry of Finance in Uganda.