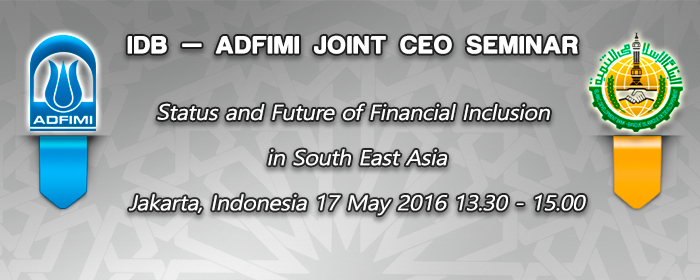 Background
It is now a tradition to hold a CEO Seminar for the benefit of DFIs during the annual meetings of Islamic Development Bank. The purpose is to convey to the executives of NDFIs a message on a currently hot topic of interest to NDFIs.
ADFIMI Management Committee and IDB have selected "The Status and Future of Financial Inclusion in South East Asia" to be the theme of this year's CEO Seminar.
Objective
To update CEOs and executives of NDFIs of the state of play in financial inclusion in South East Asia and the role of Islamic Micro-Finance in financial inclusion.
Financial Inclusion
In light of the global financial situation, the key challenges for financial authorities are to maintain financial stability, manage sovereign risk, ensure long-term finance for economic growth, but also to encourage financial inclusion.
Financial inclusion is an important thrust in development by ensuring that every economic activity, geographical region and segment of society have access to financial services. Financial inclusion would also include the general public having access to financing, financial services, financial redress and financial information.
This seminar has reviewed the importance and status of financial inclusion in the South East Asia.
Seminar Proper
The seminar was conducted in accordance with the schedule.
The meeting began by a recitation from the Holy Quran.
The meeting was co – chaired by Mr. Mehmet Emin Özcan, the Chairman of ADFIMI, and Mr. Kunrat Wirasubrata, Director, IDB Regional Office, Kuala Lumpur, Malaysia. After welcoming remarks by Mr. Özcan, Mr. Wirasubrata invited speakers in the order appearing in the schedule.
SCHEDULE
13.30-13.40

Opening Remarks by Co-Chairs

M. Emin Özcan, Chairman ADFIMI
Mr. Kunrat Wirasubrata, Director, IDB Regional Office, Kuala Lumpur

13.40-14.00

"The Existence and Contribution of the BMTs in Financial Inclusion Endeavour in Indonesia"

By Mr. Saat Suharto CEO, PBMT Ventura, Jakarta

14.00-14.20

"The Importance of Financial Inclusion vis-a-vis Poverty Alleviation and their Correlation with Reference To SDGs"

By Prof. Datuk Dr Syed Othman Alhabshi, Chief Academic Officer, INCEIF, Malaysia

14.20-14.40

"The Status of Financial Inclusion in Brunei Darussalam"

By Yang Mulia Dayang Hjh Rashidah binti Haji Sabtu, Acting Assistant Managing Director (Regulatory) Autoriti Monetari Brunei Darussalam

14.40-15.00

Q & A and Closing Remarks
After the completion of the speeches, there was a Q&A session.
Nearly fifty participants were present.
Click here for seminar flyer.