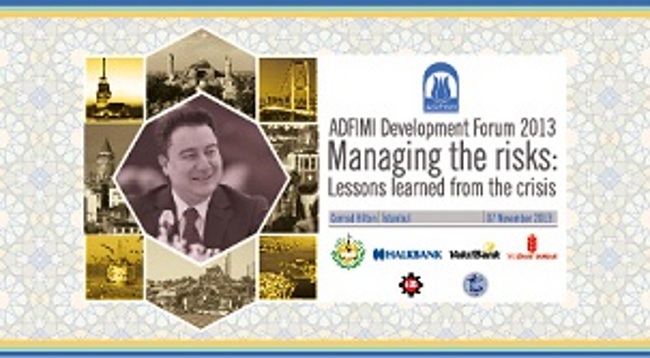 Report on ADFIMI Development Forum 2013", Conrad Hilton Hotel, Istanbul, Turkey, 07 November 2013
The objective of the Forum was to disseminate good practices - Turkey's performance during the global crisis, and to discuss and create an awareness of the flaws in the global financial system and propose humble solutions. These objectives are universal and constitute a common denominator to the finance community.
The Forum followed the schedule given in the Forum Booklet starting with a registration session at 08.00 on 07.11.2013 and followed by a short welcoming remarks by ADFIMI Chairman, Mr. Mehmet Emin Özcan.
There were two plenary sessions and one special session with the presence of Honourable Ali Babacan, Deputy Prime Minister of Turkey who was the keynote speaker.
The first session was moderated by Mr. Ozan Cangürel, Deputy Chairman, Banking Regulation and Supervision Agency of Turkey. The theme was "Limiting Systemic Risks: Macro Prudential Policies; Rule Based vs Discretionary".
In the ensuing special session, HE Ali Babacan addressed the audience on "Tackling of Global Financial Crisis" "Küresel Finans Krizinin Üstesinden Gelmek" in which HE elaborated on the measures taken under his leadership which successfully avoided any sizeable damage to Turkish economy during the 2007 financial crisis. His speech was widely covered by the press.
As one of the main objectives of the Forum, ADFIMI's honourary membership was presented to him since H.E. was conferred ADFIMI Honourary Membership by a decision of the ADFIMI General Assembly. ADFIMI Chairman, paid tribute to his attributes and achievements – that made him a role model for the young generation.
At the end of the inaugration and keynote speech by H.E. Ali Babacan, there was a Luncheon Address by Mr. Süleyman Aslan, CEO of Halkbank Turkey, on "Lessons learned by public banks from the global financial crisis: the case of Halkbank".
The second session dealt with issues related to the redesigning of International Financial Architecture. The first speaker, Sr. Kodeidja Malle Diallo, Director, Risk Management. Department, Islamic Development Bank Group, provided "IDB Group's views on Redesigning the Global Financial System". The second and last speaker was H.E. Ibrahim Halil Çanakçı, Undersecretary of Treasury of Turkey. In his capacity as the co chair of "International Financial Architecture Working Group", he has extensively dealt with the work of G20 on the redesigning of International financial architecture. He has described "Redesigning the Global Financial System: Treasury of Turkey Perspective".His speech was listened very attentively and drew many questions which he answered all eloquently.
The Forum ended with a cocktail on the same day at 18.00hrs when live Ottoman Music was performed.