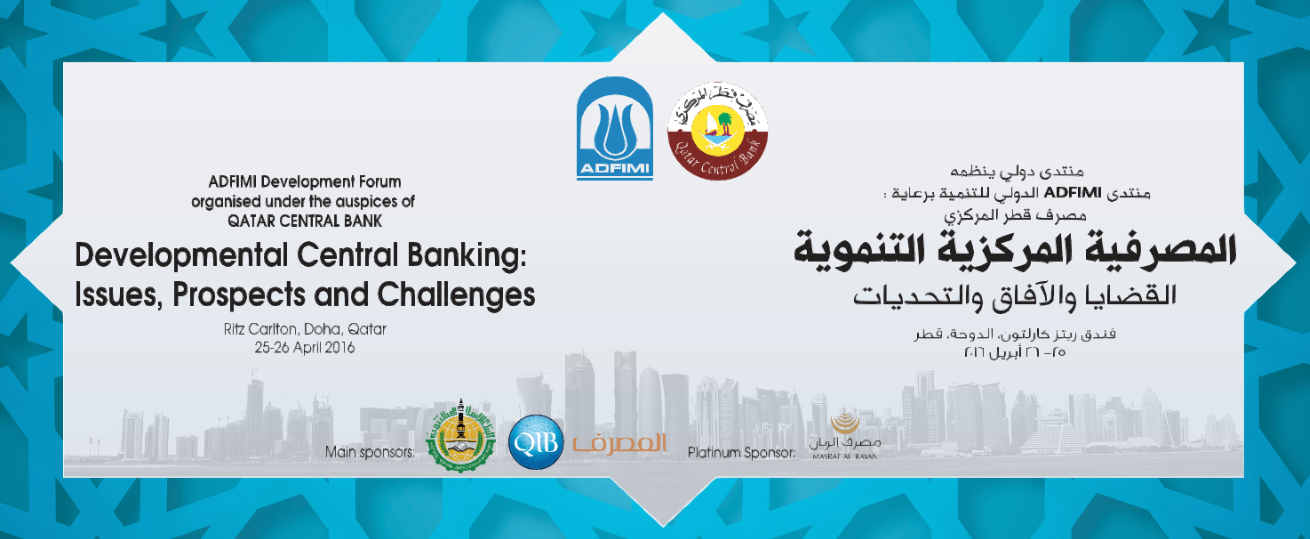 Report of
ADFIMI INTERNATIONAL DEVELOPMENT FORUM
Developmental Central Banking: Issues, Prospects and Challenges
held under the auspices of
THE CENTRAL BANK OF QATAR
Ritz Carlton Hotel, Doha, 25-26 April 2016
Context:
ADFIMI has initiated a "Development Forum" in 2010 in order to annually review the progress made in development finance. In addition, it was decided to recognize contributions made by the nationals of IDB Member Countries in development finance. The first ADFIMI Forum recognized Dr. Ahmed Muhammed Ali's great contributions to development finance in IDB member countries as the President of IsDB. He congratulated ADFIMI for the initiative and supported the organization of the Forum on an annual basis.
The second Forum was jointly organized with SME Bank of Malaysia from 05-06 July 2012 in Kuala Lumpur when Honourable Tun Mahathir Mohamed was presented ADFIMI honorary membership in recognition of his legendary leadership of Malaysia's world renowned development.
Third Forum was organized on 07 November 2013 in Istanbul and the guest of honour was H.E. Ali Babacan, Deputy Prime Minister of Turkey. He was conferred the honorary membership of ADFIMI for his masterly conduct of the Turkish Economy.
The fourth was again organized in KL upon the invitation of SME Bank Malaysia with a theme "Collaborative Entrepreneur Development – A game changer in a challenging business ecosystem" from 20-21 October 2014. Chief Guest of Honour was H.E. Dato' Sri Mohd Najib Tun Haji Abdul Razak, the Prime Minister of Malaysia who inaugurated the Forum. The recipient of ADFIMI Honorary Membership in 2014 was H.E. Sheikh Abdullah Saoud Al-Thani, the Governor of Qatar Central Bank. Dr. Ahmed Muhammed Ali had paid tribute to HE The Governor.
The fifth was held from 25 – 26 April 2016 in Doha jointly with Qatar Central Bank with a theme 'Developmental Central Banking: Issues, Prospects and Challenges'. H.E. Sheikh Abdullah Saoud Al Thani, the Governor of Qatar Central Bank inaugurated the Forum. Dr. Ahmed Mohammad Ali was expected to be Keynote Speaker but due to preparations for the 41st Annual Meeting of IDBG in Jakarta, H.E. the President was unable to be present.
Expected Outcome:
Since the 1980s, a broad consensus emerged among economists regarding the role and mandate of central banks. They were asked to focus merely on maintaining price stability and refrain from any other goals, such as growth and employment generation. Safeguarding price stability was best embodied in the concept of "inflation targeting" (IT) and the World Bank and the IMF considered IT the state of the art of central banking.
Due to the global financial crisis, this has led to a rethinking of the prevailing consensus in central banking. Indeed, not only have central banks around the world rediscovered their financial stability mandates, some have also adopted many kinds of unconventional monetary policies in the aftermath of the global financial crisis in order to deal with problems of debt, stagnation and deflation.
Over the past decade, many central banks in developing and emerging economies have begun to place renewed emphasis on the promotion of economic development and structural transformation, looking beyond mandates for macroeconomic stability.
The instruments used by central banks to promote financial inclusion vary significantly across countries. Consumer protection and financial literacy have become important areas of central bank engagement in a variety of countries.
A central bank with a wider, developmental mandate can make important contributions to a country's economic and social development by improving monetary transmission channels. What role could the NDFIs play in this process?
Forum Proper:
ADFIMI International Development Forum was held in Doha under the auspices of Qatar Central Bank on 25-26 April 2016.
The Forum discussed monetary policy strategies adopted by various central banks in the aftermath of global financial crisis and the role of development finance institutions in improving the effectiveness of monetary transmission channels.
There were nearly 150 participants from over 20 countries including 23 speakers from the World Bank, the IDB, the IMF and the European Central Bank as well as from several other central banks, development banks and universities.
The Forum acted as a solid rung towards developing new relations between the developmental bankers and to review central banking lessons since the global pre-crisis period, and the subsequent policy responses, and contributed to the important process of depicting new central banking roles and responsibilities, and how they have been reinforced and modified.
The Forum proceeded in accordance with the following schedule:
Schedule of ADFIMI INTERNATIONAL DEVELOPMENT FORUM, 25-26 April 2016
Day 1: 25 April 2016
Session

Time

Topic / Speakers / Moderators

Registration

08.30-09.00

09.00-09.10

Opening remarks by the MC

Opening Session

09.10-09.30

09.30-10.30

Welcoming Remarks by Mr. M. Emin Özcan, ADFIMI, Chairman

Inauguration speech (Arabic and English) by H.E. Mr. Sheikh Abdullah Saoud Al Thani, Governor of Qatar Central Bank

Group Photo Session

&

Networking Break

10.30-11.00

Session 1

11.00-12.30

Rethinking Monetary Policy Strategies: Past and Future

In many developing and emerging economies, over the past decade Central Banks are emphasizing on the promotion of economic development and structural transformation, looking beyond mandates for macroeconomic stability.

Accordingly, the first session deliberate on the following general aspects of the monetary policy strategies.

A review of developments in monetary policy – a historical perspective

Global Financial Crisis and its impact on monetary policy Strategies.

Challenges to Inflation Targeting, How Financial Stability issues, asset price movements are addressed in an inflation target framework.

Building blocks for effective Monetary policies

The role of financial markets for an alternative anchors for monetary policy in GCC economies

Interaction of Fiscal policies and macro prudential tools

Alternate monetary policy regime – choices and the pros and cons

Moderator:

Mr. Ad van Riet

, Senior Adviser, Monetary Policy Directorate, European Central Bank

Dr. Ahmet Faruk Aysan

, Member of the Board, Monetary Policy Committee Member, The Central Bank of the Republic of Turkey,

"Managing Short-Term Capital Flows in New Central Banking: Unconventional Monetary Policy Framework and New Central Banking"

Prof. Dr. Mansor H. Ibrahim

, Dean, School of of Graduate Studies, INCEIF "

Monetary Policy, Business Cycle and Bank Lending in a Dual Banking System

"

Prof. Dr M. Kabir Hassan, Professor of Finance and Hibernia Professor of Economics and Finance, Department of Economics and Finance, University of New Orleans, USA, "Monetary Policy Responses to the 2008 Financial Crisis: Quantitative Easing Evidence in the United Kingdom" (Click here for presentation

or

full paper

)

Dr. Solikin M. Juhro

, Director, Economics and Monetary Policy Department, Bank of Indonesia "

The Role of the Central Bank in Promoting Sustainable Growth: Perspectives on the Implementation of Flexible ITF

"

Networking and Lunch Break

12.30-14.00

Session

Time

Topic / Speakers / Moderators

Session 2

14.00-15.30

Improving Monetary Transmission Channels: What Role Development Financing may Play?

A central bank with a wider, developmental mandate can make important contributions to a country's economic and social development. Yet, multiple objectives could make central banking much more challenging, as tensions may arise between policies that promote price or financial stability, on one hand, and development on the other. How may these challenges be addressed?

In this session the following will be addressed.

Present Monetary transmission channels, how can they be improved?

Could Development banks and other development finance institutions complement monetary policies?

Could they be reinvented to carry out structural changes that serve monetary policy?

Redefining the responsibilities of development banks to help achieving the price and financial stability objectives of central banks

The effects of declining oil prices on Central Bank Policies

Moderator:

Speakers :

Networking Break

15.30-16.00

Session 3

16.00-17.30

Unconventional Monetary Policies: Country Experiences

This session plans to contribute the new central banking discussions by analysing the different country experiences especially after the global crisis. Sharing the country experiences will be quite helpful in navigating through the unchartered territories of new central banking. In this session pros and cons of unconventional monetary policies and other strategies will be compared and strengths and weaknesses of each will be discussed.

Rethinking in Central Banking- Country experiences during or after the global financial crisis

The new roles of the Central Banks in restoring financial and macroeconomic stability

Embedding macro-prudential policies into conventional policy tools of the Central Banks of emerging countries

Financial stability concerns and policy responses of emerging market Central Banks

Unconventional Monetary policies and its impact on Financial Stability. How effective it was in proving the aggregate growth

Exit from UMP and its impact on financial market in Emerging Market Economies

Moderator:

Speakers:
Gala Dinner: (19.30 – 22.00)
Prof. Frederic Ludwig Joutz, Professor of Economics, and Director of Ph.D Unit I, George Washington University, USA Dinner Address: "Developments in Oil prices and Central Banks in the region"
Day 2: 26 April 2016
Session

Time

Topic / Speakers / Moderators

Session 4

9.30-11.00

Moderator:

Keynote Speech

"The new era of blended finance and circular economy - what roles the central banks could play?"

Networking Break

11.00-11.30

Session 5

11.30-13.00

New Central Banking and Development Financing

The Forum will seek answers to the issues of development central banking including the following:

Should developing country Central Banks adopt different strategies than developed country Central Banks?

As there will not be a "one-size-fits-all" solution, could we make conditional recommendations?

Any provision for Islamic finance and potential roles for Islamic Finance development banks?

Could Central Bank – NDFIs be complementing one another to better coordinate macroeconomic policies?

What would be the newly defined role of developmental central bank and its relation to NDFIs in general and development banks in particular?

Limitations and scope of central banking when policies of the central banks of developing countries are mainly affected by the policies designed at the Central Banks of the developed countries.

Moderator:

Mr. Quazi Shairul Hassan, Managing Director, Saudi-Bangladesh Industrial & Agricultural Investment Company Ltd. (SABINCO).

Speakers:

Networking and Lunch Break

14.00

End of Forum
The Welcoming Speech was made by Mr. Mehmet Emin Özcan, Chairman ADFIMI in which he humbly welcomed all the central bankers, development bankers, academicians and members of the press. Although central bank policies since the outbreak of the crisis, had made a crucial contribution to restoring financial stability, nine years after the eruption of the crisis, the central banking community still faced many difficulties and challenges as it sought possible exit strategies from their current policy stances and struggled with the possible medium-term impacts. The forum would discuss the important questions that had arisen as to the proper roles, duties, and obligations of central banks in the years ahead.
He then expressed his thanks and appreciation to H.E. Abdullah Al Saoud Al Thani, the Governor of the Central Bank of Qatar for hosting the forum and that ADFIMI was proud to have him as an honorary member of ADFIMI.
He expressed his gratitude to Islamic Development bank and its legendary President H.E. Ahmed Muhammed Ali for generously supporting this Forum. He also thanked Qatar Islamic Bank and Masraf Al Rayan for their generous sponsorships. (Full Text)
Ensuing Mr. Özcan's remarks, the Inauguration Speech was delivered by H.E. Mr. Sheikh Abdullah Saoud Al Thani, Governor of Qatar Central Bank in which he stated this Forum to be a great opportunity for the exchange of knowledge and experience on development issues and developmental financing mechanisms to keep pace with all the changes and open new horizons for the new deals. His speech included the following main points:
Prior to the recent global financial crisis the central banks were considering price stability as the main goal among the objectives of monetary policy. At that time, according to a widely accepted view, the economic growth and development could be achieved through price stability, leaving the developmental role of central banks to the second place.

The emphasis on the developmental role as part of the central bank's policy will contribute significantly to the economic development. However, the terms of this policy must be determined accurately to avoid side effects, since the expansion of powers could lead to a conflict of development policies.

The local macroeconomic conditions should be taken into account, as well as international developments and their repercussions on the economy and financial system through trade and financial channels.

Focus should be on the relationship between monetary policy and financial stability, so the financial stability would not be affected by monetary policy.

Macro prudential policies are necessary to establish a flexible financial system. There is also a need for coordination between macro prudential policies and monetary policies in order to provide a better development environment.

One of the important topics to be discussed at this Forum was the role of development financial institutions in economic growth; where these institutions determine the problems affecting the financial markets in funding and conducting necessary arrangements to provide funding for sectors, which are facing difficulties in getting funds from financial institutions.

H.E. then explained how Qatar avails financing to the real sector, including Qatar Business Incubator, which was inaugurated by His Excellency the Prime Minister in 2014.

QCB's monetary policy had been homogeneous and also managed liquidity to ensure the provision of the required financing of productive sectors to support growth and achieve diversity. In addition, financial regulations and macro prudential policies were continuously reviewed to promote financial stability, and work on the development of the financial sector infrastructure, especially payments and settlements.

The main output from this Forum would be to benefit the decision-makers and to reflect on their business development.
(Full Text : Arabic / English)
After H.E.'s keynote address, the Forum proceeded in accordance with the schedule. A total of five Sessions were conducted in one and a half days.
Abdullateef Bello, Chief Economist, IDB participated in the Forum to represent the President of IDB.
Click here for Forum Brochure in English or in Arabic.
Click here for a Summary of the Proceeding